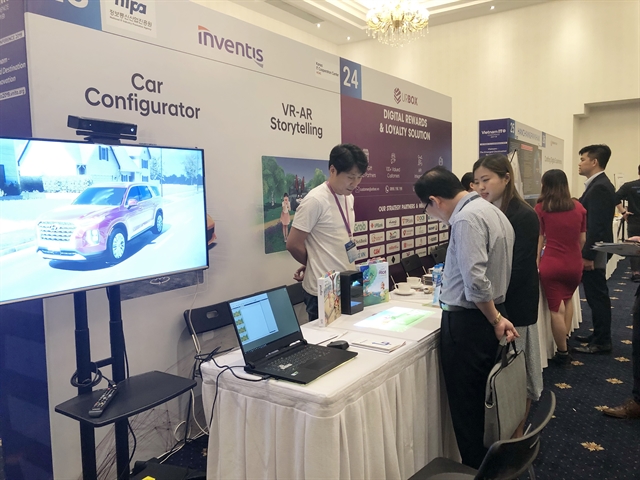 HCM CITY — Việt Nam could become the leading information technology innovation hub in Southeast Asia, experts told a conference in HCM City on October 24.
Speaking at the annual Vietnam IT Outsourcing (VNITO) Conference, Phạm Thiết Hòa, director of the Investment and Trade Promotion Centre of HCM City (ITPC), said according to the e-Conomy Southeast Asia report for 2019 released by Google, Temasek and new partner Bain & Company, Việt Nam leads Southeast Asia in internet economy growth with a rate of 40 per cent.
Hà Nội and HCM City are among the 10 most dynamic cities in the world this year according to the City Momentum Index, he said.
Việt Nam had 3,000 start-ups in 2019 to rank third place in Southeast Asia, and the number continues to increase each year, he said.
"Việt Nam's high-tech companies are keeping abreast of the latest global industry 4.0 technology trends in areas like big data, artificial intelligence/machine learning, internet of things, blockchain, and digital transformation.
"Moreover, the Government and the HCM City administration are also deploying projects to build smart cities around the country, promoting innovative start-up programmes, and implementing projects to transform HCM City into a regional and international financial hub."
Those favourable conditions are of great advantage to Việt Nam, especially to enterprises who want to provide products and services based on new technologies, and provide a golden opportunity for its IT industry to break through and become the regions' leading innovation hub, he added.
Lâm Nguyễn Hải Long, honorary chairman of the Việt Nam Information Technology Outsourcing Alliance (VNITO Alliance) and CEO of Quang Trung Software City (QTSC), said when talking about IT services earlier people only focused on IT outsourcing, but in the last five years Việt Nam-made IT products have started to appear in the market.
"In the past we mainly programmed and wrote code based on foreign companies' demands. In recent years we have been hired to do innovative work ... or ... part of products.
"Vietnamese companies, after doing software outsourcing for foreign companies, have acquired a lot of experience and moved to the next level and can come up with made-in-Vietnam products that are appreciated by global companies.
"We are encouraging companies to enhance innovation and improve R&D activities to create products for the global market."
Speaking to the media on the sidelines of the conference, Nguyễn Công Ái, partner, deal advisory strategy at KPMG Vietnam, said a recent survey by KPMG and Gartner of over 1,000 CEOs of large IT companies, found that if businesses do not fully embrace digital reform they would fail in the competition.
"Half the participants at the conference are from foreign countries, showing they pay close attention to the Vietnamese market because Vietnamese people are highly innovative.
"Việt Nam's innovation level is consistently increasingly, and this will continue for the next five to 10 years."
To further boost innovation, the education system needs to be reformed further to stimulate creativity among students and provide better foreign language training, he said.
Organised by ITPC, VNITO Alliance, and QTSC, the conference also discussed enabling innovation in Việt Nam, how to build a collaborative innovation team for the business, co-operation between Việt Nam and Japan in industry 4.0, tech talent, opportunities for Korean and Vietnamese companies in developing tech solutions, and several other issues.
It also saw the signing of an agreement between the VNITO Alliance and six entities from South Korea and Japan to promote trade and co-operation between them and Việt Nam.
There was a technology exhibition showcasing products and solutions from IT firms.
Themed "Việt Nam – The Emerged Destination for Innovation," the conference was aimed at promoting the strengths of the country's IT industry, providing information about and assessments of its IT market and facilitating trade promotion and business matching. — VNS